Rebis Rack Effects System

The Rebis Rack effects system is an audio processing component system hailing from the UK in the mid '80s. Based on the Vero card frame system, the rack can hold fourteen modules in addition to the three module wide power supply. A variety of modules were available upon introduction, but who knows how many ever made it to the US.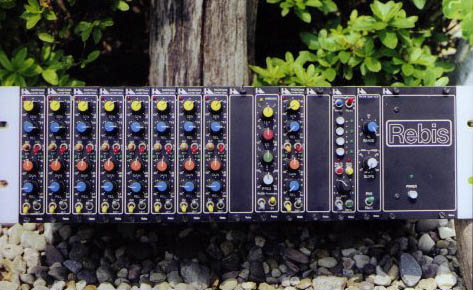 I happened upon the Rebis system this past summer while in Atlanta, Georgia on business. One store had purchased the entire remaining stock of the previous importer, and I speculate perhaps the only stock ever in the US..... I was very intrigued by the panning system, and was disappointed to only find one module set. For the price I paid though, I shouldn't complain, as it was like getting nine compressors and an EQ for free. The racks I have require solder connections to the edge card connectors at the rear, although an alternate rack with phono connectors was originally available in the UK. The following modules were available in 1985, but I have no idea how many may remain in existence:
RA201 Noise Gate
RA202 De-esser
RA203 Compressor-Limiter
RA205 Delay System

RA205 Delay
RA208 Modulator
RA209 Mixer

RA206 Oscillator
RA207 LED Meter
RA208 Modulator
RA209 Mixer
RA210 RIAA Disc Preamp
RA211 Timer
RA212 Mic/Line Amplifier
RA213 Mono Mixer/Distribution Amplifier

RA215 Programmable Pan Controller
RA216 Dual VCA

RA220 HIGHCOM Noise Reduction
RA209 Mixer
RA222 VCA Noise Gate
RA224 Filter Gate
RA225 Expander
RA226 Digital Sampler
Tom Wright was the original importer, and I've heard he can be reached at (404) 321-3886, although I have not tried to reach him myself.